2048 Cupcakes
About 2048 Cupcakes Game
2048 Cupcakes: A Sweet Twist on the Classic Puzzle Game
2048 Cupcakes is a delightful and addictive puzzle game that adds a sugary and mouth-watering twist to the popular 2048 game. In this charming adaptation, you won't be dealing with boring numbers; instead, you'll immerse yourself in a world of colorful and delectable cupcakes. Your ultimate mission? To create the legendary 2048 Cupcake, a challenge that combines the need for strategic thinking with an insatiable sweet tooth.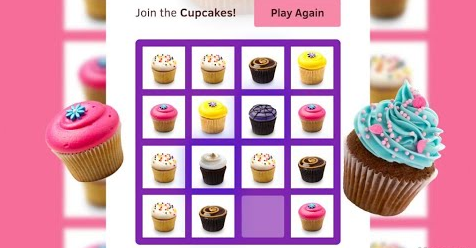 ---
How to play 2048 Cupcakes
Playing 2048 Cupcakes is as simple as it is addictive. Here's a step-by-step guide on how to satisfy your craving for this delightful puzzle game:
Swipe to Merge: To begin, swipe the cupcakes in different directions using touch controls or arrow keys on your device. Your goal is to merge cupcakes with matching numbers or types.

Matching Cupcakes: When two cupcakes with the same number or type collide, they magically transform into a new cupcake with a higher number. Keep merging cupcakes to reach higher numbers and unlock new flavors and delightful designs.

Grid Management: With each swipe, new cupcakes will appear on the grid, steadily filling up the available space. Your challenge is to strategize and plan your moves carefully to prevent the grid from becoming jam-packed and ending the game.

Ultimate Objective: Your ultimate mission in 2048 Cupcakes is to achieve the coveted 2048 Cupcake. This feat demands not only merging skills but also a clever strategy. Can you master the art of cupcake merging and reach this sweet milestone?
Features
2048 Cupcakes offers a delightful gaming experience filled with enticing features that will keep you coming back for more:
Charming Graphics: The game boasts colorful and delectable cupcake designs that are a treat for the eyes. Each cupcake is a visual delight, making the merging process all the more satisfying.

Soothing Music: As you immerse yourself in the world of cupcakes, you'll be serenaded by calming background music that adds to the overall enjoyment of the game.

Addictive Gameplay: 2048 Cupcakes is known for its addictive nature. Once you start merging those cupcakes, it's hard to stop. Prepare to lose track of time as you indulge in this delightful puzzle game.

Unlockable Content: As you progress and reach higher numbers, you'll unlock new cupcake flavors and designs. This element of surprise keeps the game fresh and exciting.
Whether you're a fan of the original 2048 game or simply looking for a fun and relaxing gaming experience, 2048 Cupcakes has something special to offer. So why wait? Head over to wordlewebsite.com and immerse yourself in this deliciously addictive puzzle game. Can you conquer the grid and achieve the legendary 2048 Cupcake? It's time to satisfy your sweet tooth and find out!