2048 Defense
About 2048 Defense Game
2048 Defense: A Fusion of Strategy and Puzzle
2048 Defense offers a unique blend of strategy and puzzle-solving, creating an engaging and innovative gaming experience. In this game, your strategic thinking skills are put to the test as you fuse the excitement of tower defense with the famous 2048 puzzle. Your mission is clear: defend your castle against relentless waves of enemies, preventing them from breaching your fortress walls. Prepare to challenge your mind and embark on a journey that perfectly combines tower defense strategy with the renowned 2048 puzzle.
To succeed, you must combine identical numbers to enhance your strength and shooting abilities. Launch powerful red explosives or freezing blue projectiles to thwart the enemy's advances. Unlock unique towers that will aid your survival as you progress through numerous levels. This adventure is not just about gaming; it's an opportunity to test your math skills, enjoy stunning visual effects, and prove that your ingenuity is the key to conquering all levels and achieving ultimate victory. Get ready to push your brain to the limit in this exceptional gaming experience!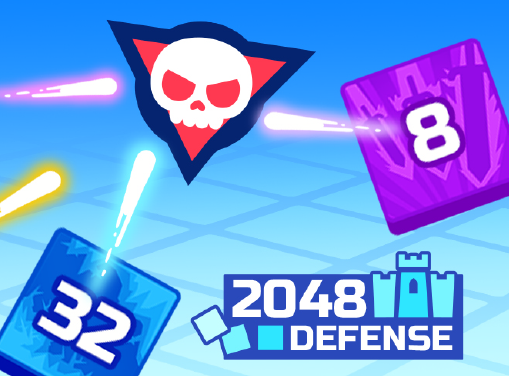 ---
How to play 2048 Defense
Mastering the Art of Castle Defense
Playing 2048 Defense is a thrilling and mentally stimulating experience. Here's how to play:
Combine Identical Numbers: Strengthen your defenses by merging identical numbers on the game board. Plan your moves carefully to maximize your power.

Launch Projectiles: Utilize your enhanced strength to launch red explosive or blue freezing projectiles. Timing and accuracy are crucial to effectively fend off the advancing enemy forces.

Unlock Unique Towers: As you progress through the game, unlock and strategically deploy unique towers. Each tower possesses distinct capabilities that will enhance your defense strategy.
Features
Highlights of 2048 Defense
2048 Defense offers a range of features that enrich your gaming experience:
Strategic Challenge: Experience the perfect fusion of tower defense strategy and the renowned 2048 puzzle, providing a unique and engaging gameplay experience.

Math Skills Test: Put your math skills to the test as you strategically merge numbers to bolster your defenses.

Unique Towers: Unlock and deploy a variety of unique towers, each offering a set of specialized capabilities, adding depth and complexity to your defensive strategy.

Visual Spectacle: Immerse yourself in the game's stunning visual effects that enhance the overall gaming atmosphere.
Conclusion
Conquer the Castle Defense Challenge
2048 Defense is not just a game; it's a dynamic blend of strategy, puzzle-solving, and action, offering an exhilarating and fresh gaming experience. Challenge yourself, fend off relentless enemy waves, and demonstrate that your defense strategy is unbeatable. Whether you're a fan of tower defense or the 2048 puzzle, this game offers the best of both worlds. Dive into the realm of 2048 Defense and embark on a journey where your wit and tactics will lead you to victory in the face of relentless challenges. Good luck in this one-of-a-kind gaming adventure!