2048: Puzzle Classic
About 2048 Puzzle Classic Game
2048 Puzzle Classic: A Relaxing Brain Teaser
2048 Puzzle Classic is a delightful and relaxing puzzle game suitable for all ages. Your primary objective in this game is to reach the coveted 2048 tile through a combination of skill and patience.
Inspired by the classic math game, the 2048 Puzzle Classic offers an enjoyable challenge that will put your brain to the test. It's all about making precise tile combinations to achieve the ultimate goal. With options to adjust game speed and sound effects, you can customize your gaming experience for maximum comfort.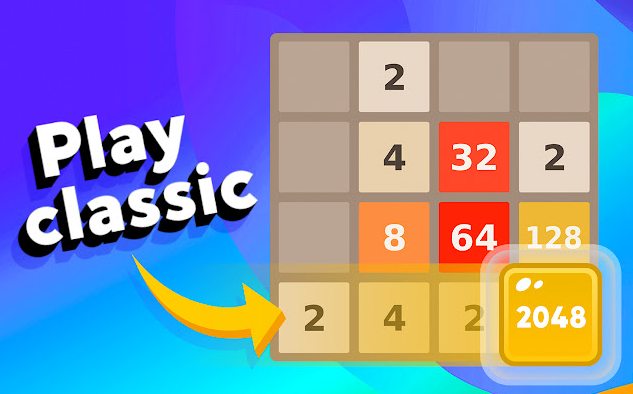 ---
How to play 2048: Puzzle Classic
Squeezing Your Brain for Success
Playing the 2048 Puzzle Classic is both fun and mentally stimulating. Here's a quick guide on how to play:
Tile Combinations: You begin with numbered tiles on a grid. Combine tiles of the same number by sliding them into one another.

Goal: Reach 2048: Your main goal is to reach the 2048 tile by strategically merging tiles. The challenge lies in planning your moves efficiently.

Adjustable Settings: You have the flexibility to switch between different game speeds and enable or disable sound effects according to your preferences.
Features
Highlights of 2048 Puzzle Classic
2048 Puzzle Classic offers a range of features that make it an enjoyable puzzle experience:
Accessible Gameplay: Suitable for players of all ages, making it a great choice for family fun.
Brain Teasing Challenge: Test your logical thinking and strategy skills as you work toward the 2048 tile.
Customizable Experience: Adjust game settings to tailor your gaming experience to your liking.
Enjoy a relaxing puzzle experience with 2048 Puzzle Classic as you work your way to the coveted 2048 tile. With customizable settings and an engaging challenge, it's the perfect game to unwind and stimulate your brain.