A Diction
About A Diction Game
A Diction Game offers a delightful and straightforward word-guessing experience designed to entertain players in a relaxed yet intellectually stimulating manner. This casual game presents you with 6 attempts to correctly guess a word, testing your word-solving skills while maintaining a friendly and enjoyable atmosphere.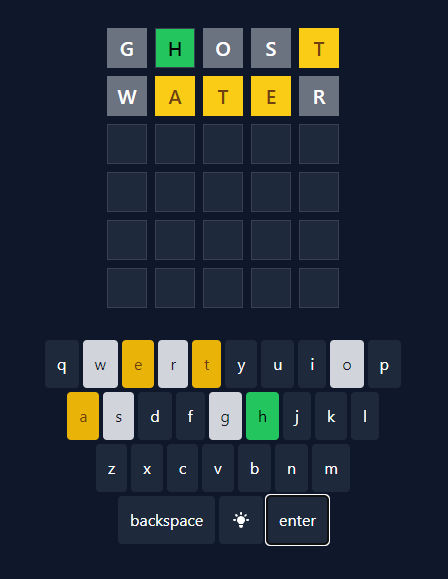 ---
How to play A Diction
Playing A Diction Game is a breeze, providing a simple and engaging way to spend your time. Here's a brief guide on how to dive into this word-guessing adventure:
Features
A Diction Game boasts several features that make it an appealing choice for word game enthusiasts:
6 Attempts: Players are granted a total of 6 attempts to guess a 5-letter word, offering a balanced level of challenge that suits both casual and dedicated players.

Color-Coded Feedback: The game employs a clear and intuitive feedback system using colors. Green signifies that a letter is not only present in the word but also in the correct position, while yellow indicates that the letter is part of the word but in the wrong place. Gray, on the other hand, signifies that the letter is not part of the word.

Hint System: If you find yourself stuck and in need of a nudge in the right direction, the lightbulb icon provides hints. You can earn hints by successfully solving words without using any hints in 3 turns or less. Each word allows for the use of one hint.

Casual Gameplay: A Diction Game is designed to offer a relaxed and enjoyable gaming experience, making it accessible to players of all skill levels.
A Diction Game invites you to unwind and test your word-solving abilities in a stress-free gaming environment. With its user-friendly interface, color-coded feedback, and hint system, it offers a pleasant way to while away your free time. So, have some fun, take on the challenge, and see if you can unravel the mystery word within 6 attempts!