Grootle
About Grootle Game
Grootle: A Free and Engaging Online Word-Guessing Game
Welcome to the captivating world of Grootle, an exciting online word-guessing game that will put your linguistic skills and deductive reasoning to the test. In this free-to-play game, you are granted six chances to unlock the hidden word and crack the code. Prepare for a unique wordplay adventure that promises challenges and thrills like no other.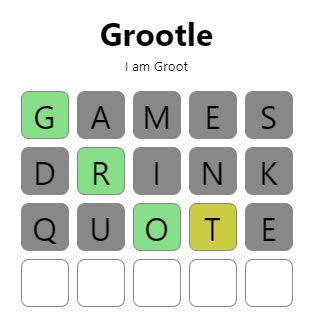 ---
How to play Grootle
Mastering Grootle is both simple and exhilarating. Here's a step-by-step guide to help you get started on your word-guessing journey:
1. The Objective
Your mission in Grootle is clear: you must guess the secret word concealed within the game. With a total of six attempts at your disposal, each guess is a valuable opportunity to inch closer to the solution.
2. Deciphering Clues
After each guess, the secret word will undergo a transformation in color, revealing essential clues.
When a guessed letter occupies the correct position within the word, it will be displayed in vibrant green.
If the letter is indeed part of the word but is situated in the wrong place, it will be marked in cheerful yellow.
In instances where a letter doesn't belong to the word at all, the corresponding box remains a neutral gray.
3. Creating Words
To submit your guess, simply select a letter from the provided list and use your mouse to drag it into the empty box. Your goal is to construct a word that not only makes sense but also aligns with the concealed secret.
4. Fun and Camaraderie
Grootle is more than just a game; it's an invitation to friendly competition and enjoyable wordplay. Challenge your friends, family, or fellow players, and embark on a quest to discover the secret word with the fewest guesses.
Game Features
Grootle boasts an array of exciting features that contribute to its popularity and enjoyment:
1. Free-to-Play
Grootle is accessible to all players without any financial barriers, ensuring that everyone can join in on the word-guessing fun.
2. Engaging Clues
The color-coded clues add an element of challenge and excitement to each guess, transforming the game into a thrilling adventure.
3. Friendly Competition
Grootle encourages camaraderie and interaction by allowing players to challenge their friends and partake in entertaining wordplay together.
Conclusion
In summary, Grootle is more than just a game; it's a delightful word-guessing adventure that will put your vocabulary and deductive skills to the test. Whether you're competing solo or with friends, Grootle guarantees hours of wordplay entertainment. Are you ready for the challenge? Immerse yourself in the vibrant world of Grootle, unravel the hidden word, and relish the experience of this engaging online game. Best of luck and have a blast!