Hexa 2048 Puzzle Block Merge
About Hexa 2048 Puzzle Block Merge Game
Hexa 2048 Puzzle Block Merge: A Unique and Addictive Puzzle Adventure
Hexa 2048 Puzzle Block Merge is an extraordinary puzzle adventure that promises an addictive and relaxing gaming experience like no other. In this one-of-a-kind game, your objective is to match blocks with identical numbers, but here's the twist—you must match them in groups of at least 3 identical ones to merge them and make them grow.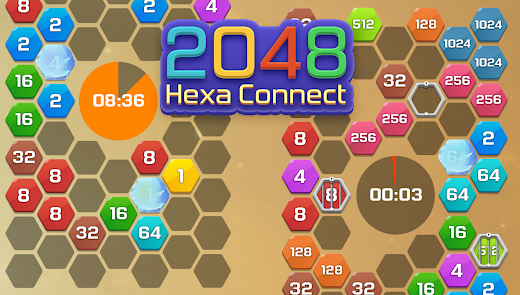 ---
How to play Hexa 2048 Puzzle Block Merge
Train Your Brain and Test Your Visual Dexterity
Playing Hexa 2048 Puzzle Block Merge is a delightful exercise for your brain. Here's how to play:
Matching Blocks: Search for blocks with the same numbers and create groups of at least 3 identical blocks. These groups will merge into larger blocks.

Strategic Moves: Plan your moves carefully to merge blocks strategically and create larger merged blocks. The larger the block, the higher your score.

Visual Dexterity: Hone your visual dexterity by carefully observing the game board and efficiently identifying matching blocks.

Leaderboard Aspiration: Compete with fellow players and aim to achieve the highest numbers, ultimately reaching the pinnacle of the leaderboard.
Features
Highlights of Hexa 2048 Puzzle Block Merge
Hexa 2048 Puzzle Block Merge offers an array of features that elevate your gaming experience:
Addictive Gameplay: The unique gameplay mechanics make it easy to get addicted to merging blocks and striving for higher numbers.

Relaxing Graphics: Immerse yourself in the game's straightforward yet colorful graphics, creating a visually appealing gaming environment.

Endless Gameplay: Fear not making a misstep; you can commence the game at your convenience and relish endless hours of gameplay.

Leaderboard Competition: Challenge your mental acuity and visual dexterity by competing against other players, with the aim of securing the top spot on the leaderboard.
Conclusion
Dive into a World of Block Merging
Hexa 2048 Puzzle Block Merge delivers a captivating and distinctive puzzle adventure that both engages your mind and provides hours of entertainment. Whether you're looking to unwind and relax or challenge yourself to reach the highest numbers, this game offers a rewarding experience. Train your brain, test your visual skills, and immerse yourself in the world of block merging. Developed by BotaGame, this game promises endless enjoyment and a fresh take on the classic 2048 puzzle. Are you prepared for the merging adventure? Play now and discover how far you can go!