Moo-rdle
About Moo-rdle Game
Moo-rdle: A Farm-Fresh Word-Guessing Challenge
Dive into the world of word-guessing adventure with a delightful twist in Moo-rdle. This captivating game blends the excitement of wordplay with a charming farmyard theme. In Moo-rdle, your mission is to unravel the secret MOORDLE within nine attempts. But there's a catch – each guess you make must consist of a valid 5-letter word, and you can't use any duplicate letters. Prepare to embark on an entertaining word-guessing journey filled with farm-themed fun.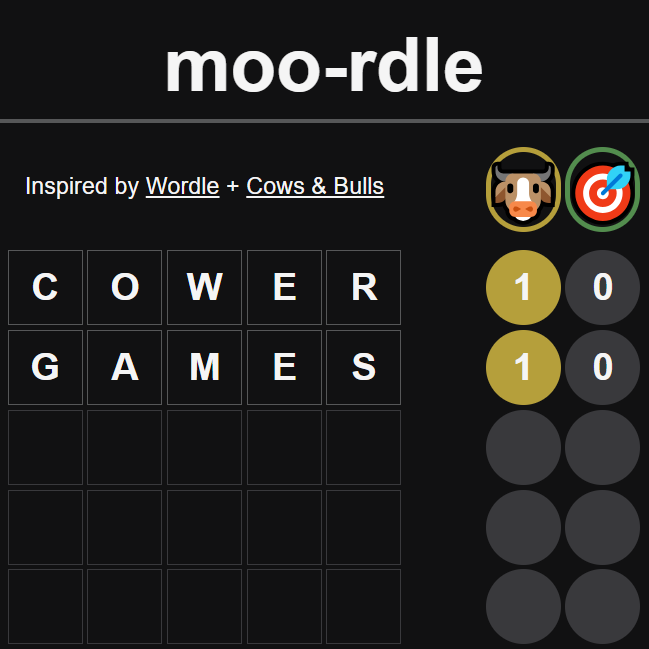 ---
How to play Moo-rdle
Guess the MOORDLE in 9 Tries: Your primary objective in Moo-rdle is to uncover the MOORDLE within a limited set of nine attempts. To do this, you must adhere to specific rules for each guess:
Valid 5-Letter Words: Each guess you make must be a valid 5-letter English word.
No Duplicate Letters: Ensure that your guesses contain no duplicate letters.
Submit Your Guess: Hit the enter button to submit your word.
Understanding COWs and BULLs: After each guess, you'll receive feedback in the form of COWs and BULLs, represented by cute farm-themed emojis:
COW : This emoji indicates that a correct letter exists in your guess but is not in the correct position.
BULL : The BULL emoji signifies that a correct letter is in the precise position in your guess.
Game Features
Moo-rdle offers a range of exciting features that enhance your word-guessing experience:
Farmyard Theme: Immerse yourself in a charming farm-themed environment that adds a delightful touch to the game.
Engaging Wordplay: Sharpen your word-guessing skills while attempting to decipher the MOORDLE.
Feedback System: The COW and BULL emojis provide clear and enjoyable feedback on the accuracy of your guesses.
Word Challenge: Challenge yourself to craft valid 5-letter words within the given nine attempts.
Conclusion
Moo-rdle is more than just a word-guessing game; it's a farm-fresh word puzzle that promises hours of entertainment. Put your linguistic skills and strategic thinking to the test as you work to uncover the MOORDLE within nine tries. With its delightful visuals and engaging gameplay, Moo-rdle appeals to word enthusiasts and casual gamers alike.
Experience the thrill of word guessing with a playful farm twist. Play Moo-rdle today and see if you can decipher the MOORDLE before your nine attempts run out. Are you ready to become the ultimate farmword champion? Step into the barnyard and take on the Moo-rdle challenge now!