Number Merge 2048
About Number Merge 2048 Game
Number Merge 2048: A Mesmerizing Puzzle Challenge
Immerse yourself in the world of captivating numerical puzzles with the Number Merge 2048 Game. This extraordinary gaming experience revolves around the art of connecting numbers while keeping your moves from running dry. The objective is elegantly simple yet incredibly satisfying—use your finger to create lines by connecting matching numbers. The longer your lines, the higher your score soars. Witness the magic as connected numbers merge and evolve into multiples of 2. Brace yourself for hours of delightful gameplay as you connect numbers, achieve impressive high scores, and invite your friends to embark on the challenge of surpassing your accomplishments!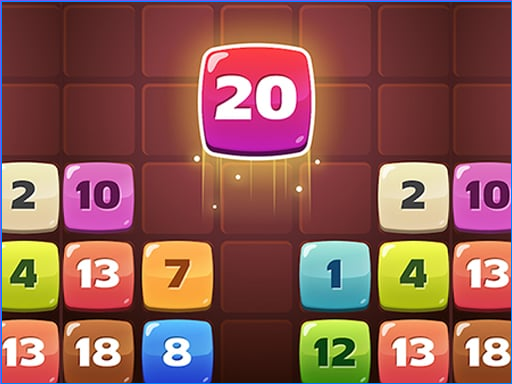 ---
How to play Number Merge 2048
Mastering the Number Merge 2048 Game is a journey into the realm of numerical connections. Here's a step-by-step guide on how to dive into this mesmerizing puzzle:
Connecting Numbers: The core objective is to connect numbers of the same value by dragging your finger across them. You can create lines horizontally, vertically, or diagonally.

Scoring Strategy: Longer lines translate to higher scores. Aim to create extensive connections to maximize your points.

Number Merging: When you connect identical numbers, they elegantly merge, forming multiples of 2. This merging mechanic adds depth to the gameplay and opens up opportunities for achieving higher scores.
Features
The Number Merge 2048 Game boasts a variety of features that make it an engaging and entertaining numerical puzzle:
1. Addictive Gameplay
The game's straightforward mechanics and the satisfaction of merging numbers make it highly addictive, ensuring players stay engaged for extended periods.
2. Strategic Thinking
Creating longer lines and achieving higher scores requires strategic thinking and careful planning of your moves, making the game both challenging and rewarding.
3. Multiples of 2
Witness the enchanting transformation of connected numbers as they merge and evolve into multiples of 2, providing a sense of progression and accomplishment.
4. Competitive Fun
Challenge your friends to beat your high scores and compete for the title of Number Merge 2048 champion, adding a layer of friendly competition to the gameplay.
In conclusion, the Number Merge 2048 Game offers a mesmerizing and addictive puzzle challenge that's perfect for players of all skill levels. Whether you're looking for a relaxing gaming experience or aiming to dominate the leaderboards, this game promises hours of entertainment. Connect numbers, aim for high scores, and enjoy the satisfaction of watching numbers merge. Dive into the world of Number Merge 2048 and embark on an exciting numerical puzzle adventure today!