RareWordle
About RareWordle Game
RareWordle: A Unique Word Guessing Challenge
Welcome to the intriguing world of RareWordle, where your word-guessing skills will be put to the test in a way like never before. RareWordle is not your typical word game; it's a brain-teasing challenge that asks you to guess the most obsolete word among a group of solution words, all sharing the same letters. Dive into this wordplay adventure and embark on a quest to uncover the rarest of words.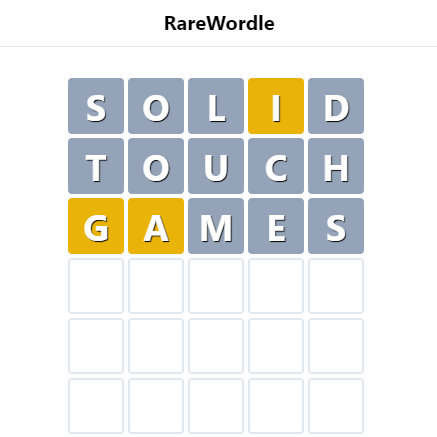 How to play RareWordle
Uncover the Obsolete Word: In RareWordle, your goal is to identify the most obsolete word from a group of solution words, all of which share the same set of letters. You have a limited number of tries, specifically 8 attempts, to make your guess. After each guess, the color of the tiles will change to indicate which letters are common to all solution words.
Understanding Tile Colors:
Common Letters: If a letter appears in common across all solution words, it will be highlighted, allowing you to see which letters are part of the common set.
Absent Letters: Any letter that is not common to all solutions will be displayed in grey, indicating its absence in all solution words.
No Positional Clues: It's important to note that RareWordle does not provide information about the exact location of letters within the solution words. Since there are multiple solutions, the position of a letter can vary from one word to another.
Achieving a Perfect Solution: If you suggest a word that includes all five common letters, the game concludes. Your answer will be ranked based on its rarity, which is determined by its inverse frequency in the English language. Additionally, you'll have the opportunity to see other solutions that fit the criteria.
Features
Unique Word Challenge: RareWordle offers a distinct word-guessing challenge, testing your ability to identify rare and obsolete words.
Multiple Solutions: Each game presents multiple solutions with common letters, adding an element of strategy to your word selection.
Word Rarity Scoring: Your answer is scored based on the rarity of the word you guess, providing a unique and educational element to the game.
RareWordle is more than just a word game; it's an exploration of the English language's less-traveled paths. It challenges you to think beyond common words and dive into the realm of linguistic rarity. With its unique scoring system and multiple solutions, RareWordle offers a fresh and engaging word-guessing experience that will test your vocabulary and word knowledge. Are you up for the challenge of discovering the most obsolete words in the English language? Dive into RareWordle today and put your word-guessing skills to the test!