Rugby Kicks Game
Test Your Kicking Skills Online
Rugby Kicks Game is an electrifying online sports game that offers players a chance to put their kicking prowess to the ultimate test. In this adrenaline-pumping rugby-themed game, your mission is clear: aim your kicks with precision to send the rugby ball soaring through the posts. Your kicking accuracy directly impacts your score, so it's essential to strive for the perfect kick every time you step onto the virtual field. With the challenge of completing 25 kicks spread across 5 distinct stages, Rugby Kicks Game promises a thrilling and engaging online rugby experience. And if you find yourself hooked on this game, don't forget to check out its American football counterpart, Football Kicks.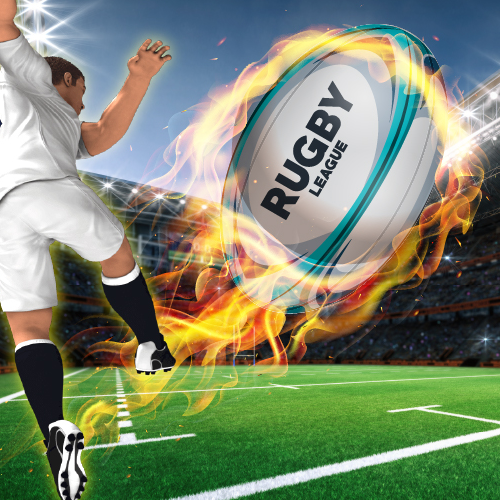 ---
How to play Rugby Kicks Game
Mastering Rugby Kicks Game is all about precision and timing. Here's how to get in on the action:
Controls: Playing the game is a breeze. All you need to do is click or tap to set your kick in motion.
Features
Rugby Kicks Game boasts a range of features that elevate your gaming adventure:
Sports Excitement: Immerse yourself in the world of rugby as you take on the role of a kicker in this captivating online game.

Precision Matters: Your goal is to achieve that perfect kick, ensuring the rugby ball sails gracefully through the posts. The game rewards accuracy, making each kick count.

Multiple Stages: Challenge yourself across 5 different stages, each with its unique set of obstacles and opportunities to rack up points.
Conclusion
Rugby Kicks Game is your ticket to an exhilarating online sports adventure that revolves around one thing: precision kicking. With 25 kicks to master across 5 diverse stages, the game offers a dynamic and rewarding experience. Your objective is crystal clear – deliver the perfect kick, guiding the rugby ball through the posts while amassing points along the way. Whether you're a rugby enthusiast or simply seeking an engaging online gaming experience, Rugby Kicks Game promises hours of fun and a chance to showcase your kicking skills. So, don your virtual rugby boots, aim for perfection, and relish the thrill of rugby kicks right from your device.